We've all heard of amino acids, but what exactly are they, and why are they essential to our diets?
Amino acids are the building blocks of protein. They are organic compounds containing an amino group (-NH2) and a carboxy group (-COOH). As about twenty percent of the human body is made up of protein, amino acids make up a large proportion of our cells, muscles, and tissue.
Amino acids are integral to to the biological processes that happen within our bodies, such as giving cells their structure, transporting and storing nutrients, as well as forming our organs, glands, arteries and muscles. They're also essential for healing wounds and repairing tissue, especially in the muscles, skin, bones, and hair.
There are 23 proteinogenic (protein building) amino acids in total, and over 100 natural amino acids, which are non-proteinogenic. Of the proteinogenic amino acids, 9 are essential, 11 which are nonessential, and 3 of which are not found in the human body.
Essential amino acids are not produced naturally by the body, so they have to be obtained from the foods we eat. The 9 essential amino acids are: histidine, isoleucine, leucine, lysine, methionine, phenylalanine, threonine, tryptophan, and valine. Each of these amino acids have unique properties and play crucial roles in our working bodies.
Non-essential amino acids are produced in the human body, so they are not essential to our diets. There are also three amino acids (selenocysteine, pyrrolysine, and N-formylmethionine) which are not found in humans, but are non-standard protein-building amino acids found in plants and other organisms.
Branched-Chain Amino Acids (BCAAs) refers to three essential amino acids: leucine, isoleucine, and valine. These are amino acids that have aliphatic side-chains with a branch in their atomic structure. Branched-Chain Amino Acids account for 35% of the essential amino acids in our muscles.
So how do we get the amino acids that we need, and what exactly do they do? Here's a quick insight into each of these powerful little molecules.
The 9 Essential Amino Acids
LEUCINE
Leucine helps to stimulate muscle strength and growth, and helps to retain lean muscle when dieting. Leucine is the main amino acid directly responsible for activating an essential compound in muscle called mTOR(mammalian target of rapamycin), which is directly responsible for up-regulating protein synthesis. Leucine provides the basic building blocks for muscle and helps to synthesise more. Leucine also helps to regulate blood sugar levels by moderating insulin into the body during and after exercise, and has a positive impact on our brain and neurotransmitters.
Sources of Leucine: cheese, soybeans, beef, pork, chicken, pumpkin, seeds, nuts, peas, tuna, seafood, beans, whey protein, plant proteins, etc.
ISOLEUCINE
Isoleucine is an isolated form of leucine that helps the body produce haemoglobin. Haemoglobin carries iron in the blood and regulates blood sugar which is burned for energy in the muscles during exercise. Whey protein isolate is naturally high in Isoleucine.
Isoleucine also assists nitrogen growth within the muscle cells, which is a large part of our structural and DNA makeup.
Sources of Isoleucine: soy, meat and fish, dairy and eggs, cashews, almonds, oats, lentils, beans, brown rice, legumes, chia seeds.
LYSINE
Lysine is one of the main amino acids that is responsible for muscle repair and growth, and has also been shown to boost the body's immune system. Lysine also helps the absorption of other minerals in the body and is needed for the synthesis of collagen which is the main element needed for the formation of connective tissue and bones in the body.
Sources of Lysine: eggs, meat, poultry, beans, peas, cheese, chia seeds, spirulina, parsley, avocados, almonds, cashews, whey protein.
---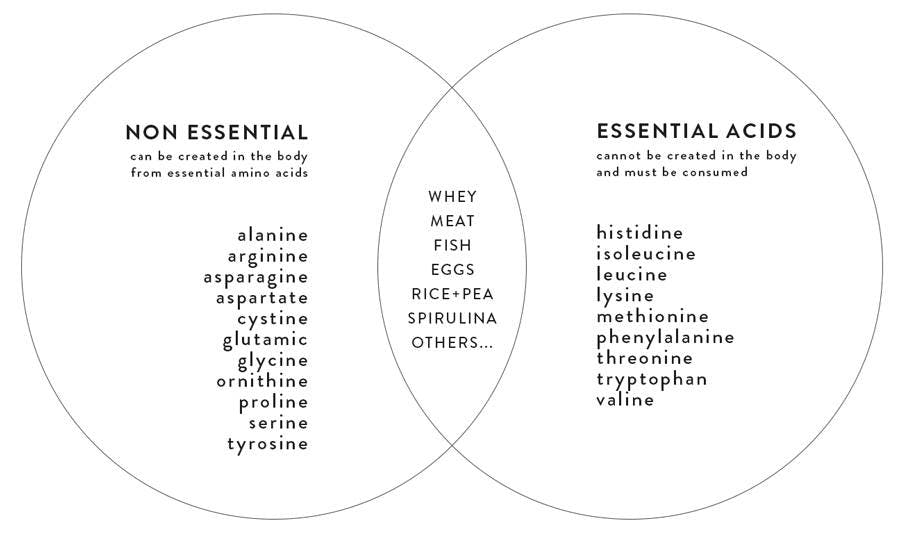 ---
METHIONINE
Methionine is important for the growth of new blood vessels and muscle growth, and it contains sulphur, which is integral to tissue and muscle health. Without enough sulphur in the body, people can be susceptible to arthritis, damaged tissue, and have trouble healing. Methionine also aids in the production of muscle growth and the formation of creatine, which is needed for energy. Methionine can also dissolve fat within the body and reduces fat deposits in the liver.
Sources of Methionine: meat, fish, cheese, dairy, beans, seeds, chia seeds, brazil nuts, oats, wheat, figs, whole grain rice, beans, legumes, onions, and cacao.
PHENYLALANINE
Phenylalanine is turned into the amino acid tyrosine within the body, which is needed to make proteins and brain chemicals such as epinephrine, L-dopa, norepinephrine, and thyroid hormones. Phenylalanine therefore has a large impact on our mood and mental health.
Sources of Phenylalanine: milk and dairy, meat, fish, chicken, eggs, spirulina, seaweed, pumpkin, beans, rice, avocado, almonds, peanuts, quinoa, figs, raisins, leafy greens, most berries, olives, and seeds.
THREONINE
Threonine supports health function of the immune system, liver, heart, and the central nervous system. It is also needed to create glycine and serine, amino acids that are necessary to produce elastin, collagen, and muscle tissue. It is essential for the healthy working of the muscles, and help to keep them strong and elastic. Threonine also helps to build strong bones, and can help to accelerate the healing of wounds and tissue injuries.
Sources of threonine: lean meat, cheese, nuts, seeds, lentils, watercress and spirulina, pumpkin, leafy greens, hemp seeds, chia seeds, soybeans, almonds, avocados, figs, raisins, and quinoa.
TRYPTOPHAN
When tryptophan is absorbed by the body, it is eventually turned into serotonin - the chemical responsible for making us feel happy, is a neurotransmitter, and helps to lower stress levels and depression. Tryptophan is also known for inducing a relaxing effect on the body, and promotes healthy sleep patterns, as well as supporting brain function and nervous system function.
Sources of tryptophan: chocolate, milk, cheese, turkey, red meat, yogurt, eggs, fish, poultry, chickpeas, almonds, sunflower seed, pepitas, spirulina, bananas, and peanuts.
VALINE
Valine is essential for optimal muscle growth and repair. It helps to supply the muscles with extra glucose responsible for energy production during physical activity, making it essential for endurance and overall muscle health. It also helps to smooth working of the nervous system and cognitive function, as well as curing metabolic and liver diseases.
Sources of valine include: cheese, red meat, chicken, pork, nuts, beans, spinach, legumes, broccoli, seeds, chia seeds, whole grains, figs, avocado, apples, blueberries, cranberries, oranges, and apricots.
HISTIDINE
Histidine supports brain health and neurotransmitters (in particular, the neurotransmitter histamine). It also helps to detoxify the body by producing red and white blood cells, which are needed for overall health and immunity. Histidine can even help protect tissues from damage caused by radiation or heavy metals.
Sources of Histidine: red meat, cheese, white meat and poultry, seafood, soybeans, beans, legumes, chia seeds, buckwheat, potatoes.
The best source of amino acids?
There are many supplements on the market that have been manufactured chemically. This includes the common synthesized amino acid supplement known as BCAAs. This can be done with chemical synthesis or extraction from protein sources. Synthesized amino acids differ in effect, depending on the way that they were genetically engineered. We recommend obtaining amino acids from a natural protein source, rather than a synthesized substitute.
Whey protein is one of the few sources that naturally contain all 20 amino acids, making it a complete protein.
Bare Blends' whey protein isolate blends have a superior amino acid profile, and are especially undenatured. They provide our bodies with the most functional protein to recover, repair and build muscles, and also boosting our immunity.
There are also dairy free protein powders which are excellent alternative to whey protein for those on a plant-based diet. The convenience factor of our vegan protein blends, or whey protein blends is an important one - as with after exercise it is important to fuel our bodies with amino acids straight away so they can begin recovering our muscles immediately.
These blends are also extremely handy for quick, nutrient-dense breakfast smoothies when you don't have time for anything else. Blending up a serve of our WPI with dairy/nut milk or your liquid of choice, with some frozen fruit is a delicious healthy breakfast which will keep you sustained, and contain the protein and amino acids which your body needs to recover and perform optimally.
Check out our guide on protein for women for more information about choosing the right protein powder for you.
Sources:
Essential amino acids are primarily responsible for the amino acid stimulation of muscle protein anabolism in healthy elderly adults
Essential amino acids and muscle protein recovery from resistance exercise
Branched-Chain Amino Acids
Methionine
Non-proteinogenic amino acids
Leucine
Amino-acids and proteins in haemoglobin formation. 2. Isoleucine
What is lysine?
Threonine